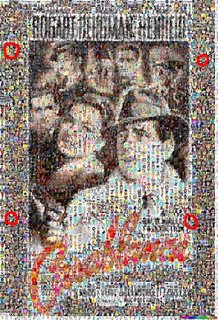 Well, maybe not popular-popular, but they are a part of popular art...on TwitterMosaic.com!
Casablanca movie posters -- what a lovely entrée into the wonderful world of mosaics for the Herman Sisters!
The first poster is a black and white version in which
Aunt Jackie aka crazyvermonter
appears several times. You can see the circled kitty faces that I was able to find with a quick eyeball scan...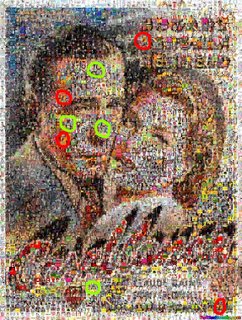 In this colorful version, Aunt Jackie and your favorite reptile,
Lizzie Sue aka the_lizzard
appear together! Those Herman girls really get around, huh? I have marked them with separate colors -- this time crazyvermonter is circled in green and the_lizzard in red.
Congratulations ladies! As per usual, you can see the original versions of the mosaics with the list of members at
www.twittermosaic.com
and become a part of the art by "following"
twitter_mosaic
.
Labels: art, blogging, Casablanca, friends, jackie, lizzard, mosaics, pictures, twitter, web